News has been swirling around the sports world of Tony Dungy's comments that if he were an NFL coach, he would have passed on the former Missouri star. His reasoning for these comments? That Sam would be a "distraction" in the locker room. Naturally, the media has blown these comments way out of proportion, and you can find him being called every bad word in the book on various websites. However, there are also some people who share the views of Dungy and think that Sam's publicity outweighs whatever contributions he may have on the field.
Before we get started, let me just say that I fully support Sam's quest to be an NFL player, and wish him the best of luck, as Dungy has as well (even though some reporters like to forget that portion of his comments). My feelings on the former coach's comments are very mixed. On the one hand I agree that locker room distractions are a real thing and should be avoided when possible. However, I disagree with Dungy's comments on Sam's personal life.
First off, I would like to dispel the notion that Sam isn't a distraction after all and that Dungy's predictions didn't come true. In fact, it's quite the opposite. In fact, even the head coach joined in saying Sam wasn't a distraction of any kind. Fisher said Wednesday that the Rams are "not treating [Sam] any differently than anybody else on this team." When is the last time you saw a seventh round draft pick as the main attraction to a national media conference? The answer is never, because seventh round draft picks are roughly a 50/50 shot to make the roster, much less become an impact player of any kind. When was the last time you saw a seventh round pick get a reality show (even though it was later cancelled)? The answer once again, is never. Some of his teammates certainly
weren't too thrilled about the idea
. I believe that would be classified as a distraction. In fact, this plays into Dungy's prediction perfectly: ""I do not believe Michael's sexual orientation will be a distraction to his teammates or his organization, I do, however, believe that the media attention that comes with it will be a distraction. Unfortunately, we are all seeing this play out now".
The other argument I hate hearing is that extra media attention isn't really a distraction. ESPN reporter Kevin Seifert states that "Media attention is more distracting for fans and reporters than it is for coaches or players.". While fans and the media do obviously spend much more time reading the news and watching sports television than the athletes do, it doesn't mean it isn't a distraction to them whatsoever. If you want to tell me that the extra attention Tim Tebow brought with him to the Jets didn't hurt their season, I'd welcome you to have a debate with any Jet fan who pays attention to their team. Not every player can handle himself and focus on football like Peyton Manning, and not every coach can command a locker room and screen out reporters like Bill Belichick can. Media attention isn't a distraction to these guys, but to the average player it is, and that has been shown time and time again.
However, where I do blame Dungy is in his comments about Sam's personal life. Tony commented: "No animosity toward him, even though I disagree with his lifestyle". Now, coach, I understand your a good Christian man and are entitled to your own personal and religious opinions, but did you really need to include that in your argument? I remember a few years back when you
publicly backed Michael Vick
despite the atrocities he committed, but you didn't make any comments about his personal life. The bottom line is that Vick chose to do the things that Dungy undoubtedly believed he shouldn't have done, while Michael Sam had no choice in the matter. Yet Sam is the one Dungy is calling out on his personal life.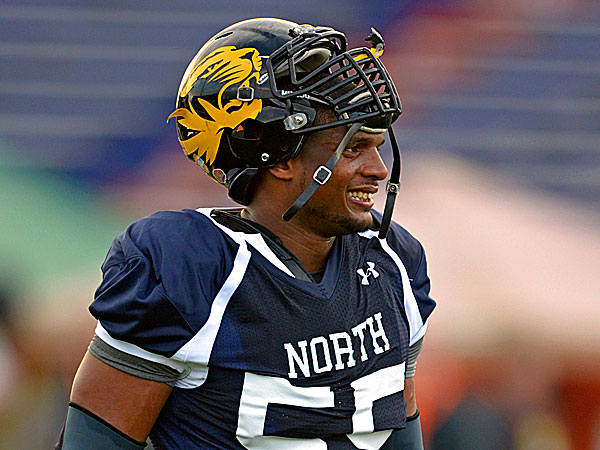 Still, aside from his comments about Sam's personal life, I have to agree with Dungy on most aspects of his comments. Sam fell to seventh round not just because he was a potential distraction, but because he wasn't that great of a prospect. Johnny Manziel was a first round draft pick despite being a much bigger distraction than Sam. This is because Johnny Football has all the talent in the world while Sam's potential is much lower. Personally, I can completely understand not wanting to deal with being a pioneer in the league for a seventh round prospect who is battling to be a backup. And Dungy isn't alone, 31 other teams' coaches and general managers basically said the same thing by not taking him in last years' draft. Though Dungy should have probably known that making these comments would be used against him in a negative way, I can't knock him too much just for being the guy to say what hundreds of other people were thinking.
Ultimately, I don't see Sam being an asset or a distraction for the Rams long term, as I don't think his tenure as a Ram will be very long. He may make the team out of camp, but I don't see him playing out most of his rookie contract in St. Louis.